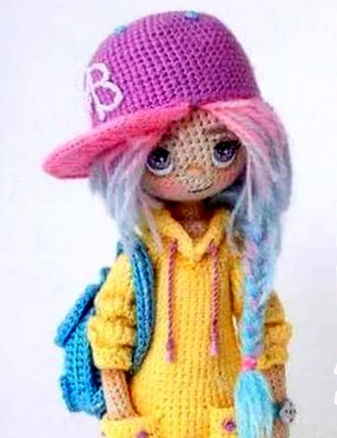 Amigurumi Doll Hat Free Crochet English Pattern
Hello dear Amigurumi Followers
Today we share one free amigurumi crochet pattern again for you. As you know we share new amigurumi free patterns every day. The main crochets are amigurumi gazelles, amigurumi bears, amigurumi pola, amigurumi pandas, amigurumi penguins, amigurumi giraffes, amigurumi llama, amigurumi pigs, amigurumi bunny, amigurumi clowns, amigurumi lambs, amigurumi bees, amigurumi unicorns, amigurumi dolls, amigurumi foxes, amigurumi penguins, amigurumi dinosaurs, amigurumi elephants, amigurumi hippos, amigurumi monkeys, amigurumi cats, amigurumi dogs and more …
Todays daily new amigurumi free crochet pattern is amigurumi dolls
I want to give you some informations about this pattern ;
If you enjoy making amigurumi, here I share this easy and free amigurumi pattern for you for free. Your kids will love these toys.
Abbreviations:
Sc – single crochet,
inc – increase,
Dec – decrease
Hdc – half crochet
CH – chain
Having a base body for your amigurumi gives you the opportunity to focus your creative energy on the style of your doll. Like this, you can develop your models with greater freedom and diversity. That is, a base body and many possibilities.
Below is a base body recipe option for your reference:
Arms
1st row: magic ring with 6sc (6)
2nd row: 2inc, 4sc (8)
3rd and 4th row: 8sc (8)
5th row: 3inc, 5sc (11)
6th and 7th row: 11sc (11)
8th row: 1sc, 2dec, 3sc, 1dec, 1sc (8)
9th to 33rd row: 8sc (8)
Legs
The right leg will not have row 41.
1st row: 8ch, 1inc, 5sc, 4sc on the same base point, 5sc, 1 inc (18)
2nd row: 1inc, 6sc, 4inc, 6sc, 1inc (24)
3rd row: 24sc (24)
4th row: 6sc, 10hdc, 8sc (24)
5th row: 6sc, 5dec, 8sc (19)
6th row: 6sc, 3dec, 7sc (16)
7th row: 4sc, 3dec, 6sc (13)
8th row: 3sc, 3dec, 4sc (10)
9th to 12th row: 10sc (10)
13th row: 9sc, 1inc (11)
14th row: 11sc (11)
15th row: 10sc, 1inc (12)
16th to 21st row: 12sc (12)
22nd row: 2dec, sc (10)
23rd row: 4sc, 2inc, 4sc (12)
24th row: 12sc (12)
25th row: 4sc, 1dec, 2sc, 1dec, 4sc (10)
26th row: 10sc (10)
27th row: 9sc, inc (11)
28th row: 11sc (11)
29th row: 10sc, 1inc (12)
30th to 40th row: 12sc (12)
41st row: 4sc, 1sc (5) – left leg only.
Body
Join the legs to form the body:
41st row: 10sc on the right leg, 5ch and connect to the left leg with 1 sc, 11sc, 5sc on the connecting chords, 2sc (34)
42nd row: 10sc, 5sc on the connecting plates, 19sc (34
43rd `47th row: 34sc (34)
48th row: 2sc, 2dec, 13sc, 2dec, 11sc (30)
49th row: 30sc (30)
50th row: 1sc, 2dec, 10sc, 2dec, 11sc (26)
51st row: 26sc (26)
52nd row: (2dec, sc) 2 times (22)
53rd row: 22sc (22)
54th row: (1dec, 9sc) 2 times (20)
55th to 63rd row: 20sc (20)
64th row: (1dec, 8sc) (18)
65th row: 18sc (18)
66th row: Connect the arms, crochet the point of the arm and the body at the same time and do 1sc, and do the remaining 7 sc of the arm.(18)
67th row: 2sc, 1dec, 2sc, 8sc, 2sc, 1dec, 2sc, 6sc (24)
68th row: (1sc, 1dec, 2sc, 1dec), 1sc, 1dec, 3sc, 1dec, 2sc (18)
69th row: 1sc, (1dec, 1sc) 5 times, 1dec (12)
70th row: 6dec (6)
Head
1st row: magic ring with 6sc (6)
2nd row: 6 inc (12)
3rd row: (1sc, 1inc) 6 times (18)
4th row: (2sc, 1inc) 6 times (24)
5th row: (1sc, 1inc, 2sc) 6 times (30)
6th row: (4sc, 1inc) 6 times (36)
7th row: (2sc, 1inc, 3sc) 6 times (42)
8th row: (1inc, 13sc) 3 times (45)
9th to 17th row: 45sc (45)
18th row: (1dec, 13sc) 3 times (42)
19th row: (2sc, 1dec, 3sc) 6 times (36)
20th row: (1dec, 4sc) 6 times (30)
21st row: (1sc, 1dec, 2sc) 6 times (24)
22nd row: (1dec, 2sc) 6 times (18)
23rd row: (1dec, 1sc) 6 times (12)
24th row: 6 dec (6)
25th `28th row: 6sc (6)
Bazar Horizonte Affiliate
More Amigurumi Dolls Ideas: