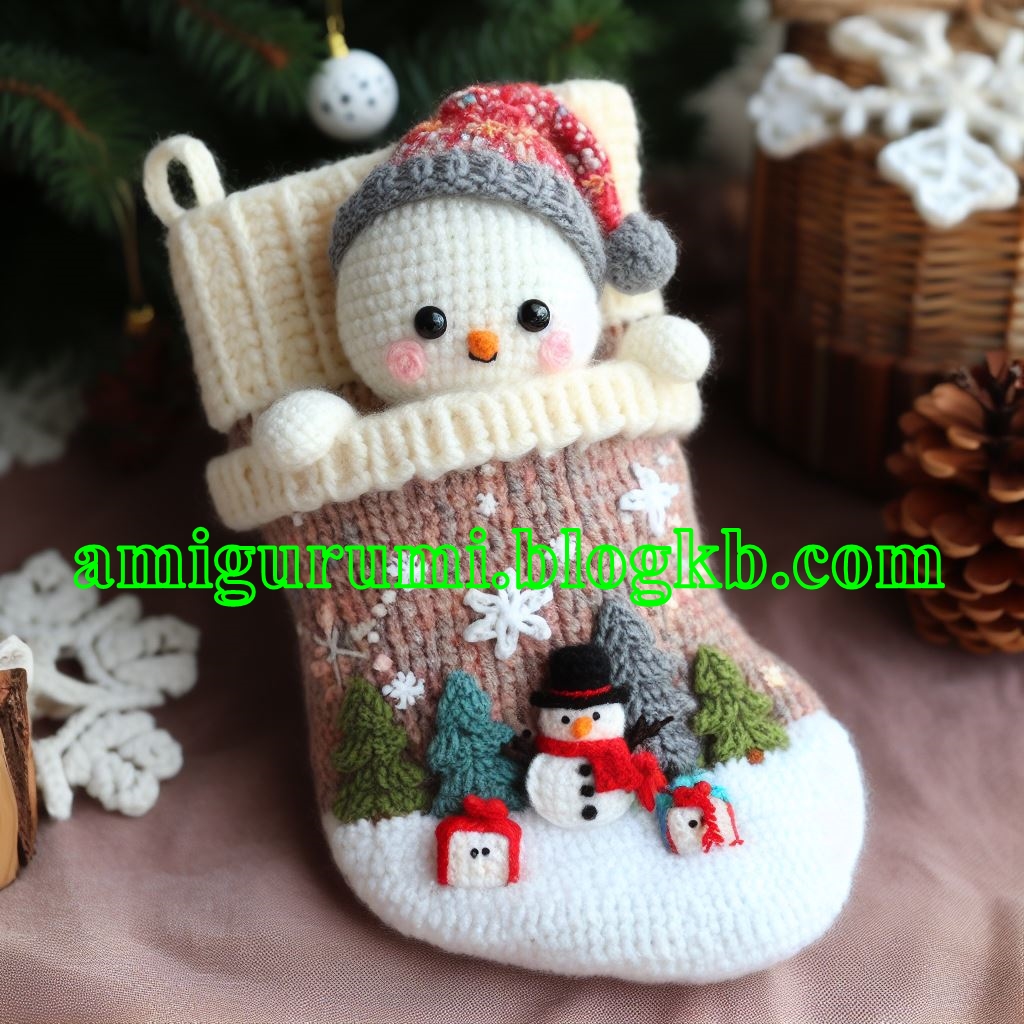 Cute Crochet Christmas Mini Stocking Amigurumi Free Pattern
Hello dear Amigurumi Followers
Today we share one free amigurumi crochet pattern again for you. As you know we share new amigurumi free patterns every day. The main crochets are amigurumi gazelles, amigurumi bears, amigurumi pola, amigurumi pandas, amigurumi penguins, amigurumi giraffes, amigurumi llama, amigurumi pigs, amigurumi bunny, amigurumi clowns, amigurumi lambs, amigurumi bees, amigurumi unicorns, amigurumi dolls, amigurumi foxes, amigurumi penguins, amigurumi dinosaurs, amigurumi elephants, amigurumi hippos, amigurumi monkeys, amigurumi cats, amigurumi dogs and more …
Todays daily new amigurumi free crochet pattern is amigurumi stocking
I want to give you some informations about this pattern ;

If you enjoy making amigurumi, here I share this easy and free amigurumi pattern for you for free. Your kids will love these toys.
Mini Stocking.
I want to give you some informations about this pattern ;

Materials needed to make a mini stocking:
Yarn – I Love This Cotton in "Red" and Knit Picks Dishie in "Swan"
Size E/3.5mm crochet hook
Yarn needle

Stitches Used for this Mini Stocking
magic ring
sl st – slip stitch
sc – single crochet
How to Crochet your Mini Stocking Advent Ornament:
You'll work the stocking beginning with the toe, then the heel, then up to the top.
R1: Using red, 6 sc into a magic ring. (6)
R2: 2 sc in each st around. (12)close
Volume 0%
R3: (Sc, 2 sc) 6x around. (18)
R4: (Sc in next 2 sts, 2 sc) 6x around. (24)
R5-R12: Sc in each st around.
Do not fasten off, but leave red yarn attached. You'll pick it back up again in Round 18.
You'll now be working the heel of the stocking in turned rows.
R13-R17: Using cream, sc in next 12 sts, ch 1, turn. (12)
Fasten off, leaving a long tail. Use this tail and yarn needle to sew the "back" of the heel together. Weave in end.
R18: Picking up red, sc evenly into the ends of the cream rows and unworked red stitches from Round 12. (24)
R19-R24: Sc in each st around.
R25: Using cream, in front loops only, sc in each st around. R26: Sc in each st around. Sl st, ch 26, sl st in same stitch. This creates a loop for hanging the ornament. Fasten off and weave in end.