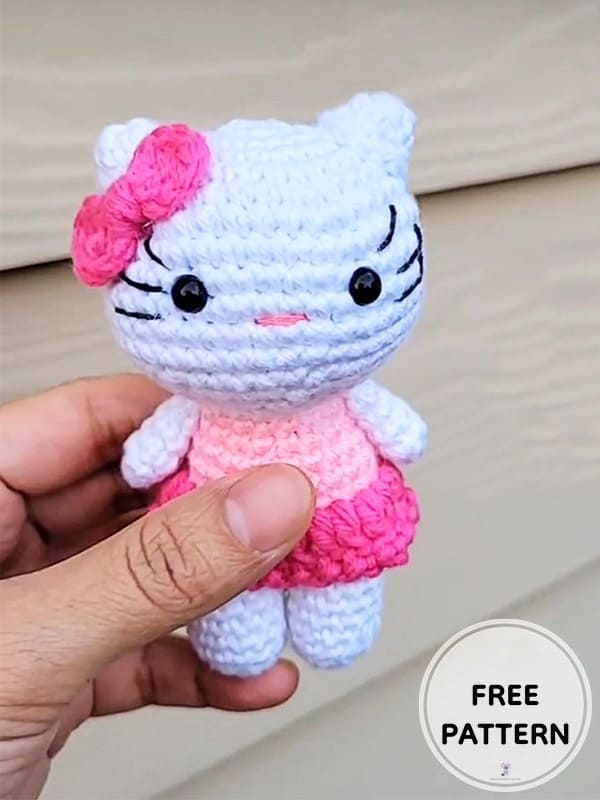 Hello Kitty Amigurumi Free Crochet Pattern
Hello dear Amigurumi Followers
Today we share one free amigurumi crochet pattern again for you. As you know we share new amigurumi free patterns every day. The main crochets are amigurumi gazelles, amigurumi bears, amigurumi pola, amigurumi pandas, amigurumi penguins, amigurumi giraffes, amigurumi llama, amigurumi pigs, amigurumi bunny, amigurumi clowns, amigurumi lambs, amigurumi bees, amigurumi unicorns, amigurumi dolls, amigurumi foxes, amigurumi penguins, amigurumi dinosaurs, amigurumi elephants, amigurumi hippos, amigurumi monkeys, amigurumi cats, amigurumi dogs and more …
Todays daily new amigurumi free crochet pattern is amigurumi cat
I want to give you some informations about this pattern ;

If you enjoy making amigurumi, here I share this easy and free amigurumi pattern for you for free. Your kids will love these toys.
Materials
• Yarn, ı use 8/4 100% cotton (50g/170 m, superfine) in three colors white for main body and light pink and dark pink.
• 2 mm crochet hook
• 6 mm safety eyes
• Scissors
• Needle
• Pins
• Fiberfill
Abbreviations
Rnd: Round
MR: Magic ring
Sc: Single crochet
Inc: Increase
Dec: Decrease
Slst: Slip stitch
Head
Rnd 1: 6sc in MR (6)
Rnd 2:*inc x6 (12)
Rnd 3:*1inc, inc* x6 (18)
Rnd 4:*2inc , inc x6 (24)
Rnd 5:*3inc, inc x6 (30)
Rnd 6:*4inc, inc x6 (36)
Rnd 7:*5inc, inc x6(42)
Rnd 8-13:5 rounds with sc (42)
Attatch the eyes in between R9-R10 with 6 sts apart .
Rnd 14:*5sc, decx6 (36)
Rnd 15:*4sc, decx6(30)
Rnd 16:*3sc, decx6 (24)
Start stuffing the head firmly.
Rnd 17:2sc, decx6 (18)
Stuff a little more if you need to as you finish.
Rnd 18:1sc, dec (12)
End with a sl st and fasten off.
Leave a long thread for sewing the head to the body .
Ears (Make 2)
Rnd 1. 6 sc in MR
Rnd 2. *1sc, inc x3 (9)
Rnd 3. *1sc, inc x3 (12)
End with a slip stitch and leave a long thread of yarn for sewing to the head later.
Arms (Make 2)
Rnd 1. 6 sc in MR (6)
Rnd 2-5. 4 rounds sc in each row
At the end of the last row make a 1 slst, 1 chain, cut the thread and fix it inside.
Legs (Make 2)
Rnd 1. 6 sc in MR (6)
Rnd 2. *inc, x6 (12)
Rnd 3-8. 5 rounds with sc (12)
First leg: at the end of the last row make 1 slst, 1 chain, cut the thread and put it inside.
Second leg: do not cut the yarn keep crocheting and make 6 sc and join with other piece of leg.
Body
Rnd 9. 12 sc in the second leg and join with the first leg doing 6 sc (24)
Change the yarn in pink and cut off the white yarn.
Rnd 10-11. 2 rows sc in each st (24)
Rnd 13-14. 2 rows sc in each st (24)
Rnd 15. *2sc, dec x6 (18)
Rnd 15. *1sc, dec x6 (12)
Making the skirt
Rnd 1. chain 2, dc in each stitch all the way round and end with slst.
Rnd 2. Ch 2, slst, and repeat all the way round end with slip stitch and weave in the ends.
After stitching the ears together.
Now embroidering the lips insert the needle one stitch below the eyes and embroider the lips in two stitches.
How it looks after embroidering the lips.
Take the bow and glue it with a glue gun.
Make 3 lines on both sides for the whiskers on both sides.
Bow for the head
Mr: chain 3, triple crochet twice, chain 3 slip stitch, chain 3 again and repeat the same.
Assembling the parts
The head.
Pin the ears 3 stitch away from the head and stitch them together.
Pin the hands just where you have stitched the head together and sew them.
More Amigurumi Cat İdeas