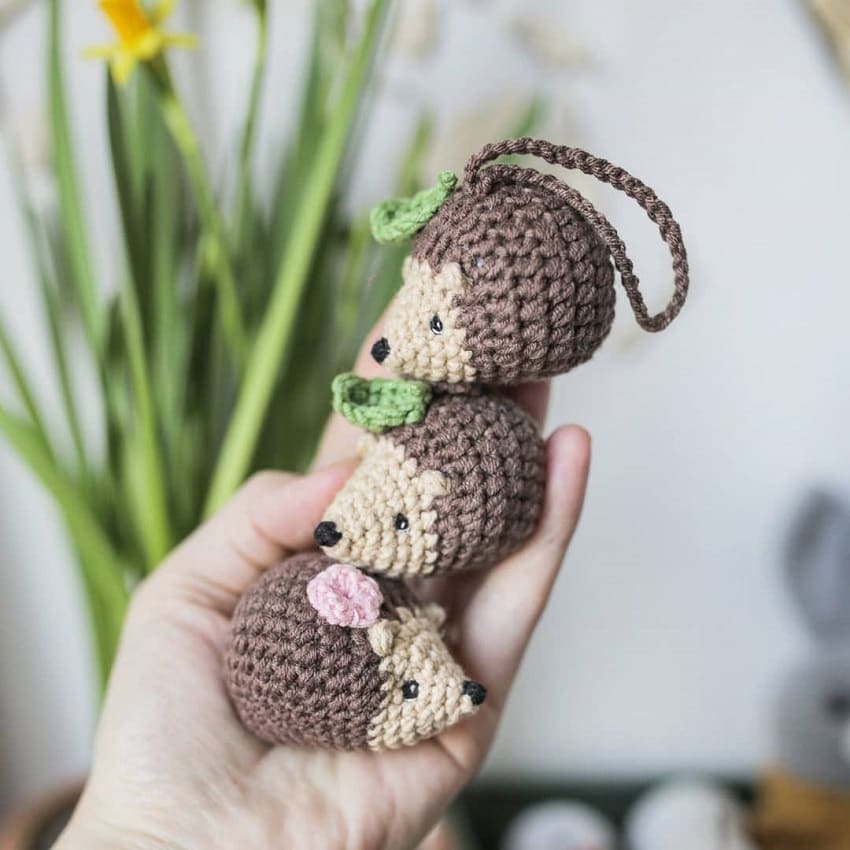 Amigurumi Hedgehog Free Crochet Pattern
Hello dear Amigurumi Followers
Today we share one free amigurumi crochet pattern again for you. As you know we share new amigurumi free patterns every day. The main crochets are amigurumi gazelles, amigurumi bears, amigurumi pola, amigurumi pandas, amigurumi penguins, amigurumi giraffes, amigurumi llama, amigurumi pigs, amigurumi bunny, amigurumi clowns, amigurumi lambs, amigurumi bees, amigurumi unicorns, amigurumi dolls, amigurumi foxes, amigurumi penguins, amigurumi dinosaurs, amigurumi elephants, amigurumi hippos, amigurumi monkeys, amigurumi cats, amigurumi dogs and more …
Todays daily new amigurumi free crochet pattern is amigurumi hedgehog
I want to give you some informations about this pattern ;
Materials
YarnArt Jeans or Alize Cotton Gold yarn (brown, beige, black and green color)
2.25 mm crochet hook
White sewing thread or embroidery floss
Tapestry needle
Scissors
Filler
Body
With brown yarn:
R 1: 6 sc in magic ring [6]
R 2: (inc) repeat 6 times [12]
R 3: 3 sc, (2 hdc in one st) repeat 6 times, 3 sc [18]
R 4: 4 sc, 2 hdc, (2 hdc in one st) repeat 6 times, 2 hdc, 4 sc [24]
R 5: 5 sc, 4 hdc, (2 hdc in one st) repeat 6 times, 4 hdc, 5 sc [30]
R 6-10: 5 sc, 20 hdc, 5 sc [30]
R 11: 5 sc, 1 hdc, (hdc, dec) repeat 6 times, hdc, 5 sc [24]
Change to beige yarn:
R 12: 9 sc, 3 dec, 9 sc [21]
R 13: 21 sc
R 14: (5 sc, dec) repeat 3 times [18]
Stuff with fiberfill.
R 15: (dec, 1 sc) repeat 6 times [12]
R 16: (dec, 2 sc) repeat 3 times [9]
R 17: (dec, 1 sc) repeat 3 times [6]
Finish stuffing.
Fasten off
Embroider nose with black yarn on R 17
Embroider eyes on R 14 at the distance of 7 sc from each other
Ears (make 2)
With beige yarn:
Make a magic ring.
1 ch, 2 hdc, sl st in a magic ring.
Pull off the magic ring.
Fasten off and leave a long tail for sewing.
Sew ears on R 11.
Leaf
With green yarn:
Make 7 ch.
R 1: from the 2nd ch from hook: 6 sc, 1 turning chain
R 2: work on both sides of the chain: 1 sc, hdc, dc, hdc, 2 sc, 1 ch,
on other side of the chain : 2 sc, hdc, dc, hdc, 1 sc, sl st in 1st ch + 3 ch
Fasten off.
More Amigurumi Hedgehog İdeas