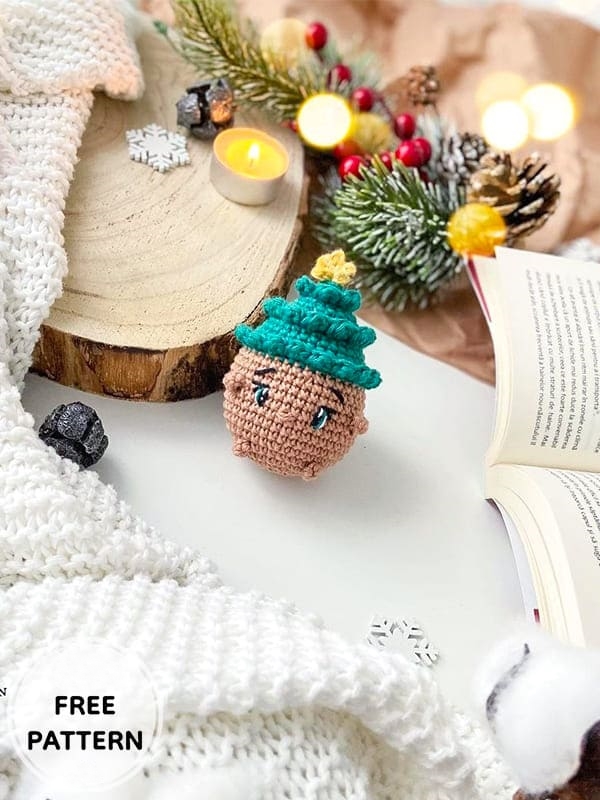 Tiny Christmas Tree Amigurumi Crochet Free Pattern
Hello dear Amigurumi Followers
Today we share one free amigurumi crochet pattern again for you. As you know we share new amigurumi free patterns every day. The main crochets are amigurumi gazelles, amigurumi bears, amigurumi pola, amigurumi pandas, amigurumi penguins, amigurumi giraffes, amigurumi llama, amigurumi pigs, amigurumi bunny, amigurumi clowns, amigurumi lambs, amigurumi bees, amigurumi unicorns, amigurumi dolls, amigurumi foxes, amigurumi penguins, amigurumi dinosaurs, amigurumi elephants, amigurumi hippos, amigurumi monkeys, amigurumi cats, amigurumi dogs and more …
Todays daily new amigurumi free crochet pattern is amigurumi christmas tree
I want to give you some informations about this pattern ;

If you enjoy making amigurumi, here I share this easy and free amigurumi pattern for you for free. Your kids will love these toys.
Materials
• Cotton yarn (50g/ 125m) green, brown, gold or yellow.
• Embroidery thread in black and white.
• Crochet hook 2.5 mm.
• Needle for sewing.
• Fiberfill.
• Stitch marker.
• Scissors.
• Safety eyes max. 6 mm.
Abbreviations
MR: Magic ring
Ch: Chain
St: Stitch
Sc: Single crochet
Slst: Slip stitch
Hdc: Half double crochet
Dc: Double crochet
FLO: Front loop only
BLO: Back loop only
Inc: Increase
Dec: Decrease
Body
Brown color.
Rnd 1. 6 sc in MR (6)
Rnd 2. 6 inc (12)
Rnd 3. (1sc,inc)*6 (18)
Rnd 4. (2sc,inc)*6 (24)
Rnd 5. (3sc,inc)*2, 4 ch, 3 sc into ch, 3 sc, inc, 2sc, 4 ch, 3 sc into ch, 1 sc, inc, (3sc,inc)*2 (30)
Rnd 6. (4sc,inc)*6 (36)
Rnd 7. (5sc,inc)*6 (42)
Rnd 8-10. 42 sc (42) (3 rnds)
Rnd 11. 13 sc, 4 ch, 3 sc into ch, 13 sc, 4 ch, 3 sc into ch, 16 sc (42)
Rnd 12-14. 42 sc (42) (3 rnds)
Rnd 15. (5sc,dec)*6 (36)

If you want to use safety eyes, insert them between round 10 and 11. The distance to the arms should be 3 visible stitches.
In round 6 and 12 just crochet over the legs and arms.
Change color to green.
Rnd 16. 36 sc (36)
Rnd 17. BLO: 36 sc (36)
Rnd 18. (4sc,dec)*6 (30)
Rnd 19. 30 sc (30)
Rnd 20. (3sc,dec)*6 (24)
Rnd 21. BLO: 24 sc (24)
Rnd 22. (2sc,dec)*6 (18)
Rnd 23. 18 sc (18)
Start stuffing.
Rnd 24. (1sc,dec)*6 (12)
Rnd 25. BLO: 12 sc (12)
Rnd 26. (dec)*6 (6)
Rnd 27. 6 sc (6)
Fasten off, pull the thread through the 6 remaining front loops to close the opening and sew in.
Greenery
Hold bonnie upside down and pick up the thread in a fl of round 17. Crochet: [1 hdc, 1 dc, 1 hdc] into one st, slst into next st.
Repeat until the end of the round, ending with a slst into the first st. Repeat the same for round 21 and 25.
Star
Gold color.
Make a MR.
1 ch, 1 sc back (into the "initial stitch" of the MR), 1 slst into the MR, (2 ch, 1 sc into the first ch, slst into the MR)*4
Cut the thread long and use it to sew the star onto tree's top.
Face
Embroider the eyes over round 10/11. There should be 3 visible stitches between the eyes and the arms.
The eyebrows are two rounds higher and go diagonally over one stitch.
If you like, you can add some blush and the cheeks.
More Amigurumi Christmas Tree İdeas